All files updated Oct. 30, 2018 with "BE BOLD. Shape the Future" tagline.
Below is a collection of ACES adapted templates for your use in developing promotional materials.
Some of these templates include an ACES logo setup, so be sure and replace it with the logo setup for your office.
Be sure to review the ACES Branding FAQs and ACES Promotional Materials Best Practices - .pdf as you build your materials:
Flyer Templates
Brochure Templates
Newsletter Template
Poster Templates
Program Templates
Card Templates
Flyer 5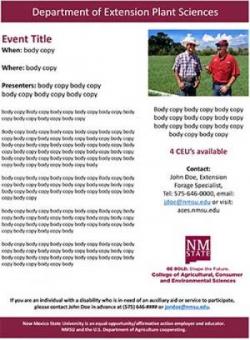 Brochure 1

Conference poster
Program 1

---
For assistance with unit/merchandise logo setups and marketing materials, please submit your request using the following links:
If you have questions, please email Marketing Communications at mktgserv@nmsu.edu or call 575-646-7557.