As a land grant University, it is very important for NMSU to portray ACES as a unified college; thus, it is necessary for us to use ACES unified branding. To help ACES staff as they build their promotional materials, we've developed the following resources help in this process.
---
ACES Promotional Materials Best Practices
This resource covers best practices for creating ACES promotional materials using branded templates, including graphic design concepts and copyright guidelines.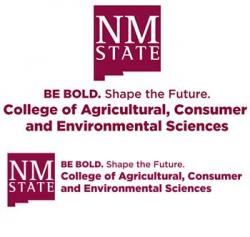 ACES Logo Setups
The ACES logo setups were developed to help ACES faculty and staff with their promotional materials needs. There are several options available for use: college level, county offices, academic and Extension departments, and Agricultural Science Centers. You are welcome to use whichever option you would like on your brochures, flyers, posters, and other promotional materials.
We've provided ACES logo setups in two formats:
The JPG versions are good for promotional materials that will be printed.
The PNG versions are low resolution and should only be used in online/emailed promotional materials. The PNG version has a transparent background and can be placed on pages or slides with a different colored background.
ACES Branded Templates
We've also developed a variety of templates for you to use to promote programs and events.
Promotional Material Templates
MS Word Letterhead Templates
PowerPoint Presentation Templates

NOTE: The color mosaics/branding bars are no longer a part of the NMSU branding, so please DO NOT include them in your promotional materials.
---
For assistance with unit/merchandise logo setups and marketing materials, please submit your request using the following links:
If you have questions, please email Marketing Communications at mktgserv@nmsu.edu or call 575-646-7557.